Meet Our Veterinary Team!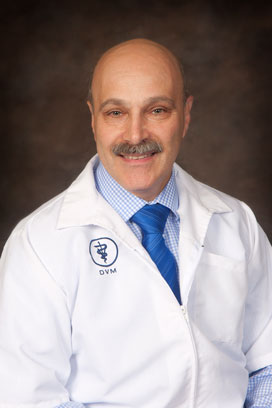 Dr. Ronald Busack
Dr. Ronald Busack majored in microbiology and is a 1981 graduate of The Ohio State University College of Veterinary Medicine. He graduated Cum Laude from his class and has been practicing medicine for over 27 years. Dr. Busack is a member of the Society of Phi Zeta which is a veterinary honor society. He is certified through the US Department of Agriculture as an animal health inspector. He is a member of the American Veterinary Dental Society, the Parma Chamber of Commerce, and The Great Lakes Search and Rescue Society Board of Advisors. Dr. Busack's special interests are veterinary dentistry and Internal Medicine. He is a 20 year member of the Parma Area Chamber of Commerce. He and his wife have 2 cairn terriers, Dexter and Lexi, who keep them quite busy. He enjoys golfing, Ohio State sports, and mentoring young people interested in veterinary medicine.
---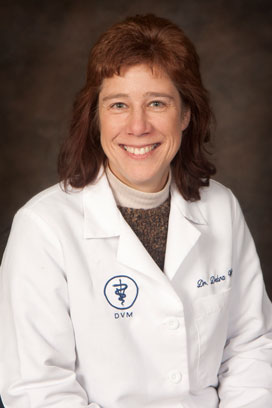 Dr. Debra Wigal
Dr. Debra Wigal is a graduate of The Ohio State University College of Veterinary Medicine. She graduated Cum Laude from her class and has been practicing medicine for over 20 years. Dr. Wigal breeds both champion Newfoundlands and Beagles. She is a member of the Newfoundland and Beagle Clubs of America and volunteers her time and services to the Newfoundland Rescue. Dr. Wigal is actively involved in training show judges to recognize quality newfoundlands through educational seminars. Her special interests include general medicine and surgery. She also has interests in animal agility, water rescue, drafting, and obedience. Dr. Wigal presently has 6 beagles and 8 newfoundlands.
---
Dr. Jacquelyn Chorba
Dr. Jacquelyn Chorba received her Bachelors degree in biology at Bowling Green State University and graduated Summa Cum Laude. She then studied at The Ohio State University where she received her DVM. During her time at OSU, she worked in their anatomy lab. In the summer of 2009, she was selected to travel to Thailand with a group of students to study both small and exotic animal medicine. After receiving her DVM, Jacquie accepted a position as an associate veterinarian at a mixed animal practice in Fremont, Ohio. After 2.5 years, she decided to relocate back closer to home. As a native of North Olmsted, Dr Chorba is excited to be back home again and working in the Greater Cleveland area. In her free time, she enjoys running, traveling, spending time outdoors, and snuggling with her cat, Maisy. Her special interests include soft tissue surgery and preventative medicine. She is currently a member of the American Veterinary Medical Association and the Ohio Veterinary Medical Association.
---
Dr. Michael Slawienski, DACVST
Dr. Slawienski is a native of Buffalo, New York. He received his Bachelor of Science degree in Animal Science from Cornell University and his Doctor of Veterinary Medicine degree from Iowa State University in 1992. He completed an internship in small animal medicine and surgery at West Los Angeles Animal Hospital and trained as a resident in veterinary surgery at the prestigious Animal Medical Center in New York City. He became a Diplomat of the American College of Veterinary Surgeons in 1999. Dr. Mike practiced at Associated Veterinary Specialists in St. Louis before moving to Ohio with his family in 2004. He has provided soft tissue, neurologic and orthopedic specialty surgeries for patients of veterinary hospitals in Northeast Ohio and surrounding areas since that time. Dr. Mike is an avid home brewer and as a BJCP certified judge has judged beer competitions nationally and abroad. Dr. Mike enjoys spending time with his three young wonderful children and his wife. Dr. Slawienski has a sweet one-eyed pug named Boty and a very mischievous cat named Shadow.
---


Our Staff
Bartels Busack Pet Hospital understands the value of a qualified team—not only in terms of professional experience, but also in terms of compassion and care. Our team, from veterinarians and groomers to office and technical staff, is aligned by a mission to provide the most professional and sympathetic attention to our animals.
Come in and have a look around—our staff is eager to meet your animal companion. With expert training and decades of experience, we strive for unparalleled veterinary care with a personal and friendly approach. Your companion is in caring hands.